Organic SuperGreens Power
$79.99
Supercharged with organic greens, fruits, fibers and enzymes for long lasting energy, mental clarity, and well being.
Great taste
Easy to mix, just add water
30 servings per container
Customer Reviews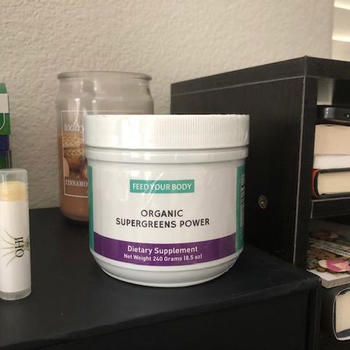 12/15/2020
So tasty!
These are my favorite greens, they taste great and mix well, I drink a glass every morning and it has helped my energy levels a lot, on my 3rd bottle, even my husband is drinking it now, that's a first!
Heather

United States
02/08/2021
Great for seniors!!
I am 68, my wife is 62, it's hard for us to eat enough greens daily, we drink it straight up with water before dinner. After about 30 days I noticed our skin was glowing, Now almost 45 days in, joint aches and pains are nearly non-existent and our energy levels have increased.
Hector C.

United States
01/10/2021
Amazing Alternative to Coffee
I stopped drinking Coffee in the morning because I felt like when it wore off I was really tired. I Looked for an alternative and I decided to go the veggie green drink route. These greens make me feel amazing! I'm a 34 year old mom of 2 with a 9-5 job, these give me long lasting energy throught the day... They keep me going without needing to reach for something sugary in the afternoon or a soda mid day. I drink one scoop first thing in the morning with just water, it tastes great, and I don't get that horrible hunger feeling. I will buy this forever! If you are feeling tired all the time, stop drinking coffee and, replace it with this. You will be amazed at how it makes you feel.
Liane

United States
12/19/2020
Gives a lot of energy
I drink this in the mornings and noticed a great improvement in my energy levels, something simple I can stick to every day.
William

United States